ABOUT THE GREENPORT ROTARY CLUB
The Greenport Rotary club is a group of local people who work together to make our area a better place. We are People of Action. Our club is a member of the Rotary International team, and we all believe that we have a shared responsibility to take action on our world's most persistent issues both locally and globally. Worldwide, Rotary has 1.2 Million members in over 35,000 clubs working together to promote Rotary International's six areas of focus:
Promote peace
Fight disease
Provide clean water, sanitation, and hygiene
Save mothers and children
Support education
Grow local economies
On a global basis, our club provides substantial support in the efforts of Rotary International and the Rotary Foundation to eradicate polio. Since 1979 the Polio Plus program has been the focus of RI's health initiatives worldwide. Today there are only three countries in the world that experience this devastating disease. This is a 99.9% reduction, from an estimated 350,000 cases in 1988 to 22 cases in 2017. Those countries still experiencing polio are Pakistan, Afghanistan and Nigeria.
We in Greenport follow Rotary's vision as follows:
"Together, we see a world where people unite and take action to create lasting change — across the globe, in our communities, and in ourselves."
As such, we too are truly People of Action for our area, making a difference every day. We support our community with volunteer help and financial contributions to many programs, including:
College scholarships totaling $7,500 to outstanding Greenport High School seniors each year
RYLA (Rotary's leadership program for high school students)
Interact and EarlyAct (school service organizations)
Literacy programs on the North Fork
Eastern Long Island Hospital
CAST (community assistance)
East End Seaport Museum
Veterans' flags on Memorial Day
American Legion
Salvation Army
Glory Going Green (a youth science program)
Our most recent and most ambitious project is returning the miniature railroad to our village with the hope that it will again delight residents both young and old for years to come. But wait, there's more! In addition to providing an attraction for visitors, it will be an ongoing source of revenue for our community programs. This is a significant challenge but not too big for us. We have the support of many local businesses and the Village of Greenport but we need your help to make this happen.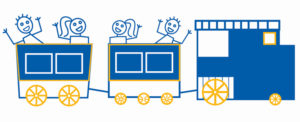 There are several ways you can become involved. You can donate financially, provide in-kind services, contribute materials or attend our fundraisers. We have established  a 501(c)3 Charitable Account to which you can send donations. All gifts are tax deductible.
Want to help? Click

Want to learn more about the Greenport Express? Click